Joanne Salerno, Founder and Senior Esthetician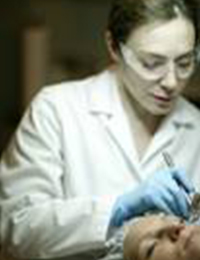 Joanne is a 35 year career professional in skin care and aesthetics. She studied in Paris, Montreal and New York and became an educator for leading researchers, manufacturers and developers of advanced skin care products and techniques.
Ms. Salerno has contributed her skills to distinguished spas and medical facilities in New York and Connecticut, winning numerous awards in the industry for her achievements in progressive skin care and makeup. She is fully accredited for all med-spa services and product applications, with certification from such med-spa suppliers as Environ, Neocutis, Palomar. She is also among the first certified Xtreme® Lash extension technicians in the State of Connecticut.
Widely known as "JoJo", she is generally accepted as the premier aesthetics practitioner in the region, owing to her relentless pursuit of safety and precision in the performance of the multitude of treatments and services in her occupational range. She sets the standard at the practice for attention to detail and thoroughness in every aspect of a client's treatment and overall care. Her acumen in evaluation/assessment and implementation of thoughtful, individualized care creates long term relationships with clients, often spanning three generations of family members.