Massage Therapy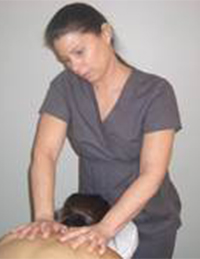 Kimberlee (Kim) Moffatt, LMT
Kim has been a practicing Licensed Massage Therapist for twelve years, having spent four at the Five Star Mandarin Oriental in Las Vegas. Herself an educator, she brought extraordinary healing skills, as a civilian contractor, to enlisted men and women at the U.S. Army base at Kwajalein, Republic of the Marshall Islands. Her massage modalities are too wide-ranging to enumerate fully, but include Swedish, Deep Tissue, Cranio-Sacral, Pre-natal, Somato-Emotional Release, Table and Floor Thai and Trigger Point Therapy. Kim's approach to massage and bodywork elevates the practice to an valuable tool for maintaining a healthier quality of life.
Swedish Massage (.5 hr. $75, 1.0 hr. $125, 1.5 hr. $185)
Classic massage to increase the oxygen flow in the blood and release toxins from the muscles. Swedish massage shortens recovery time from muscular strain by flushing the tissues of lactic & uric acids and other metabolic wastes. Stimulates the skin and nervous system, reduces emotional and physical stress while promoting health and well being.
Deep Tissue Massage (.5 hr. $75, 1.0 hr. $125, 1.5 hr. $185)
A technique that focuses on the deeper layers of muscle tissue. Slow strokes and direct deep pressure or, "friction", on the contracted areas, either following or traversing the fibers of the muscles, are intended to release the chronic patterns of tension in the body. Because more intensity is targeted to specific areas, soreness during, or right after the massage is normal, giving way to noticeable relief within a day or two.
Cranio-Sacral Therapy I and II ($150/hr.)
CST is a gentle, hands-on method of evaluating and enhancing the functioning of a physiological body system comprised of the membranes and cerebrospinal fluid that surround and protect the brain and spinal cord. This gentle yet powerful work releases restrictions in the cranio-sacral system to improve the functioning of the central nervous system. CST Therapy can be applied to a multitude of discomforts including: migraine, chronic headaches, chronic neck and back pain, whiplash, trauma from falls, stress, TMJ, brain and spinal cord trauma, learning and emotional disabilities, PTSD, scoliosis, post-surgery pain and soft tissue trauma.